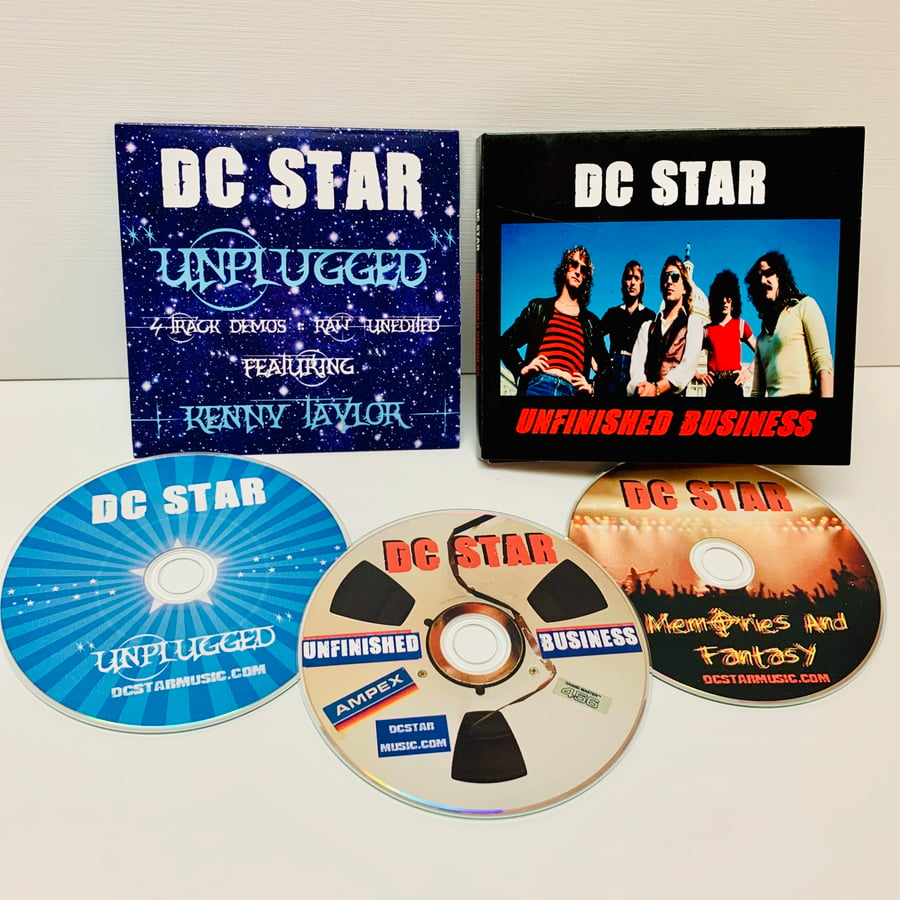 DC Star "Trilogy" Souvenir Package
$

29.95
The UNFINISHED BUSINESS "Trilogy" Package consists of 3 discs of 3 full length DC Star digital releases. "UNFINISHED BUSINESS" and "Memories and Fantasy" are in the beautifully made, expensively produced souvenir case. The**Unplugged** CD is in its own separate color jacket. The price for the set is $ 29.95 plus taxes and shipping.
**2023 BONUS!**
Also included at no extra cost: "The Best of DC Star Records" CD and a copy of David and Goliath Music's CD "One.
UNFINISHED BUSINESS features:
Come Back To Me, Dreaming Of You, Egyptian Queen, Daydreamer,
All Comes Down To Love, Closer To You, Give Your Love To Me, I Like It,
The Torch Song and Lay Down The Law
"Memories and Fantasy" has 4 unedited versions of favorites from the band's picture disc master tapes along with 8 more never before released tracks:
Tell Me Like It Is, Feeling Good To Me, Walk Away "Live", Broken Heart,
Is It You?, Live And Love, Wasting' Time, Punk (the idea), Don't Call Me Punk,
Play Play Play "Live", Makin' Time (long version) and a track from the band's last demo featuring vocalist John Frederick entitled Show Me The Way.
** Unplugged ** features never before heard acoustic demo tapes of:
I Create A Song, Tell Me Like It Is, Play Play Play, Closer To You, Lonely,
Give And Take, No One Of Her Own, I Like It, I Just Want To Belong,
The Sun and Walk Away.